When Halloween rolls around each year, it seems the cavity-creep terrorizing Sacramento dentists go to ground.
Kids get all hyped up on sugary sweet treats, parents curtail the diligent dietary supervision, and only the most unaffected by all the Halloween spirit neighborhood curmudgeon could possibly serve up something so offensive as dental floss…
But whether we're talking taped together pennies, candied apples, king size candy bars, or take one and leave the rest mixed treat bags, Sacramento parents need to push the moderation button when candy overload set in with your kids before you're seeing the dentist sooner rather than later.
Sacramento Dentist Shares Best Halloween Candy Choice

While this Sacramento dentist may not go so far as to hand out dental floss this Halloween, we can all benefit from choosing the best sweet treats for our dental health – and that doesn't mean some bland tasting cardboard either.
Halloween is just one day, so what's the harm in allowing our kids the indulgence of turning them into sugar-fueled fanatics for a spell?
Nothing.
It's the extended sugar hangover kids experience when they keep the cavity creep inviting candy consumption at maximum intake due to the bounty of leftover confectionery treasure. It's this Halloween candy overload that will have kids visiting their Sacramento dentist quicker than you can say boo!

Sacramento Dentist Asks: So what IS the best choice for Halloween candy?
For the answer to that Halloween dental health question, we defer to the experts at Delta Dental of Arizona.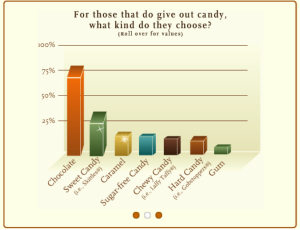 79% of all dentists surveyed chose chocolate as the sweetest treat for your teeth. Since it melts faster than hard candy, and doesn't get stubbornly stuck in between teeth like sticky candy, chocolate is the best choice to make sure you don't wake up to tummy aches AND tooth aches.
What is your favorite Halloween Handout?
Share your answer on Facebook with Delta Dental of Arizona and be entered to WIN: http://ow.ly/qipWc
Post your favorite Halloween Handout to our Facebook page too!
And be sure to stay away from 32 Elm Street in your Sacramento neighborhood this Halloween!

Sacramento Dentist Open Saturdays for Kids & Parents

We are currently scheduling "Beat the Tooth Fairy" appointments, and have both midweek and Saturday dental appointments available. Call us today at (916) 488-1933.

Connect With Us!